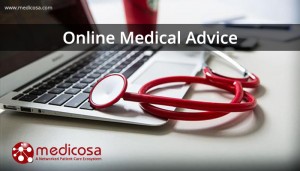 Use of Internet search engines are done for a variety of purposes; but its application as a source of reliable medical advice is recent. Online Medical Advice and Online Medical Consultation are now provided by many national providers. But its impact in India is seen to a lesser extent. While there is no disadvantage to having local doctor to go to, finding a physician in rural areas can be difficult. Also since life has become fast, medical help is required at any moment. In such scenarios online advice can be extremely helpful.
There are generally two ways through which this is done. Firstly, there is a ton of medical stuff available online, cures to most of common ailments, medicines to drugs for treatment of various diseases. The problem is finding a reliable source, which is not easy as many hotchpotch sites are also there. More reliable way is having online consultations which are not free but are reliable and safe. They are basically Internet or video or phone based remote medical consultations between patient and doctor. They generally provide consultation for purpose of diagnosis or treatment. Online medical advice provides one advantage to patients that they can seek medical advice independently, which is a paradigm shift because they can literally 'shop around' looking for medical service, similar to shopping.
This concept goes beyond general practice as the reach of patient is beyond limited or specific medical practices. There are also no geographical or geo-political limitations. Such developments have given us increased choice as well as control over our health. It can provide reassurance that you are healthy, or help detect minor or major disease at early stage, making it easier to eliminate it. This has been seen by many as 'health care paradigm', making use of technology & enabling 'personalized health care'. Advice available varies from general information sites, disease specific sites, interactive websites, databases as well as web tools.
Such practice has certain advantages over the conventional norms. It's highly convenient, allowing people take more interest in their own health. It empowers patients compared with doctors so that cheats can be detected. They can get protection from prevailing medical malpractices or incompetence; which saves money. Also mutual support is facilitated, which makes it safer and reliable.
But there are limitations in using this system. Misleading information and bogus sites do find their way into the search results. The patients need to check for reliable sites by seeing their trust badges. It can undermine the doctor-patient traditional relationship, mainly by breaches of privacy of patient's confidential information. Also advice given is left open to interpretation; and misinterpretation can often result in medical maladies.
Our health is one of our most important resources which we have. Looking after it is ultimately our own duty. While technology helps us to a great extent in that, it's our own ethics and judgment which help in making the decision. As such we can aptly choose best option for us from the wide array available and take good care of our health, the most valuable resource.
                                                                                                                                                                      By – Binoy